Ybug features
Ybug was designed to help product managers, developers, QA specialists and website visitors report bugs and give feedback quickly and easily. These features make it happen.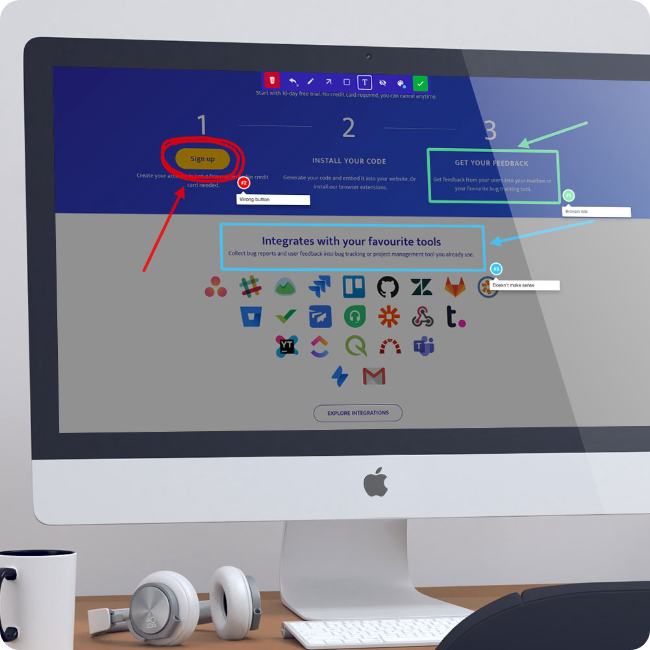 Visual
Visual feedback with screenshots
A picture is worth a thousand words. Users can make screenshots of your website, draw on them, comment on certain features or areas, and add arrows or rectangles. Reporting bugs will be a piece of cake for anyone, whether they are testers or regular website visitors.
Custom branding
Both launcher button and feedback form are fully customizable. That means you can change colours, texts, languages, and other features to fit your brand identity.
Try it for free
Easy point
& click feedback
Get all the important information you need to fix the bug. Together with the user's report, Ybug will automatically send browser environment info and Javascript console output.
Try it for free
Easy to set up
Start with a 10-day free trial. No credit card required, you can cancel anytime.
1.
Create your account in just a few moments. No credit card needed.
2.
Install your code
Generate your code and embed it into your website. Or install our browser extensions.
3.
Get your feedback
Get feedback from your users into your mailbox or your favourite bug tracking tool.
Integrates with your favourite tools
Collect bug reports and user feedback in bug tracking or project management tools you already use.
Explore integrations
Here's what our users say
Interested? Start your free trial now!
Easy setup. 10-day free trial. No credit card required!
Try it for free